Digitus
FILTER
Categories
---
Narrow Results
---
STOCK
---
PRICE
---
FILTER RESULTS
---
Colour
---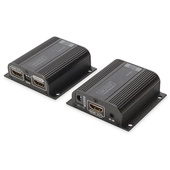 Extends the maximum length for HDMI cables to up to 50 m via a simple network cable.
Highest supported video resolution: 1080p / 60 Hz.
Supports CAT 6 and CAT 6A network cables.
EDID Switch - Allows you to set the resolution and audio format on the Transmitter Unit.
HDMI Loop Out - Allows connection of a local monitor to the Transmitter Unit.
Supports PoE (Power over Ethernet) - no power is required for the receiver unit.
Supports HDCP 1.2a.
Bandwidth: 4.95 Gbps.
Colour depth: 8 bit.
Supports uncompressed audio such as LPCM.
Metal housing.
Compact size, easy handling and installation.
Power supply: DC 5V / 2A.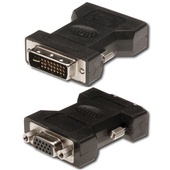 Supports 1080p with 60 Hz.
HD ready, dual link.
Connector 1: DVI-I, (24 + 5), connector.
Connection 2: HD DSUB, 15-pin, female connector.
Cable Type: Dual Link.
HDTV resolution max .: 1920 x 1200 pixels, 60Hz.
Hood: potted.
Shielding: simple shielding.
Contact surface: nickel plated.
Colour Connections: black.
Assortment: DVI cable.
HDTV Standard: Full HD.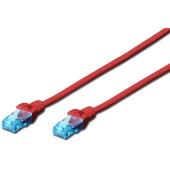 Manufactured to conform with ANSI/TIA/EIA-568-2-1 specification.
Unshielded Twisted Pair (UTP)patch cable 100Mbps Category 5 Enhanced.
2 x RJ45 connectors, Standard Configuration useable for Token-Ring and Ethernet.
Produced by an ISO9002 Certified Manufacturer.
100% Tested and Certified.
In stock with supplier
Usually ships in 2 - 3 working days