Jabra PanaCast 180 Degree Panoramic 4K UHD Conferencing Camera
Product #71953 | SKU 8100-119
(no ratings yet)
Thanks for your rating!
---
---
Jabra PanaCast 180 Degree Panoramic 4K UHD Conferencing Camera
Product #71953 | SKU 8100-119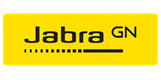 ---
---
Product Features
Ultra-Compact Design with 3 Cameras.
Real-Time Stitching into a 180° 4K Image.
Allows for Large Meetings in Small Rooms.
Automatic Intelligent Zoom & Vivid HDR.
Customer Reviews
(no ratings yet)
Thanks for your rating!
Product Details
Product: #71953
SKU: 8100-119
---
Buy Together & Save!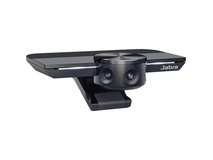 Jabra PanaCast 180 Degree Panoramic 4K UHD Conferencing Camera
---
Overview
The Jabra PanaCast 180° Panoramic 4K UHD Conferencing Camera features three sensors that record at the same time, and the images are automatically stitched in-camera to provide an immersive 180° image. With this field of view, the camera delivers a panoramic image in UHD 4K resolution. Generally, everyone on one side of a room can be captured in a shot. This capability is especially useful in smaller meeting rooms or home offices.
PanaCast works with all leading video and audio conferencing solutions. It's certified for use with Microsoft Teams and is compatible with Skype, Zoom, Webex, GoToMeeting, Amazon Chime, Vidyo, BlueJeans, Panopto, Slack, Rainbow, Fuse, and more.
Weighing just 3.5 oz, it can easily be mounted on top of your monitor or laptop via a built-in flexible mount. Alternatively, a dedicated wall mount or desktop stand are available separately.
A key feature of this PanaCast camera is Intelligent Zoom, which automatically zooms in or out depending on how many meeting participants are present. When, for example, the number of participants increases from three to five, the camera will zoom out to ensure that all five are visible in the shot. Likewise, it will zoom in when the situation is reversed to highlight the speaker and not display an empty room. Additionally, via a feature called Vivid HDR, the camera automatically adjusts contrast whenever lighting conditions change, so that the image is balanced and displayed in optimal quality.
PanaCast features two built-in mics and supports an optional Jabra Speak 710 external speaker for a more comprehensive and professional meeting room experience.
The camera works over a plug-and-play USB interface, so you can connect it directly to your laptop. You can also combine it with an optional hub or dock that supports additional devices (a speaker, tablet, TV, etc.).
While this PanaCast camera works right out of the box, you can also customise its setting using the companion Jabra Direct software, compatible with Windows and Mac. In this application you can adjust the field of view between 90, 120, 140, and 180°. You can also use electronic pan/tilt/zoom, choose to turn off Intelligent Zoom or Vivid HDR, disable built-in mics, set line frequency, and more. This PanaCast device comes with a USB cable so you can plug in and begin right away.
Key Features:
Three built-in 13MP cameras record simultaneously.
Automatic in-camera stitching into an immersive 180° UHD 4K image that captures everyone on one side of the room.
Suitable for meeting rooms from small to large.
Certified for use with Microsoft Teams.
Compatible with Skype, Webex, Zoom, GoToMeeting, and more.
Plug-and-play USB connection (allows instant collaboration)
Intelligent Zoom intuitively zooms in/out depending on how many participants are in the meeting (this feature can be disabled)
Vivid HDR automatically adjusts contrast when lighting conditions change.
Two built-in mics.
Companion Windows/Mac software allows electronic PTZ control, FOV adjustment, and more.
Built-in flexible mount allows direct attachment to your monitor or laptop; optional wall mount and desktop stand supported.
Specifications
Field of View
Horizontal: 180°
Vertical: 54°
Number of Cameras
3 x 13 MP
Supported Resolutions
3840 x 1080 at 30 fps
1920 x 1080 at 30 fps
1280 x 720 at 30 fps
Microphones
2
Power Port
USB Type-C
System Requirements
Windows 7 or Higher
macOS X 10.9 or Higher
Linux Ubuntu 16.x or Higher
Chrome OS
USB 3.0 Interface
Certifications
Microsoft Teams
Operating Temperature
32 to 86°F / 0 to 30°C
Operating Humidity
15 to 85% (Non-Condensing)
Dimensions
4 x 2.6 x 0.8" / 10.2 x 6.7 x 2 cm
Weight
3.5 oz / 100 g
Delivery Times
Australian Shipping Via DHL
DHL now offer a great express shipping service to Australia from New Zealand. We are proud to be able to offer overnight shipping to main cities on the east coast of Australia. These main centers include:
Whilst this service is extremely efficient and will be delivered overnight 99.9% of the time, it cannot be guaranteed. In the case where something were to go wrong with your delivery and it did not arrive overnight, it will most likely be delivered by the next day.
While not all major cities are eligible for overnight delivery, they still benefit from this great service. Other centers throughout Australia will have a typical delivery ETA of 2-4 days. (Excluding rural delivery address where this ETA can be extended to an additional three or more days).
If you require urgent shipping and you don't reside in one of the cities stated above, please contact us and we can find a solution that works best for you.
Please Note: Shipping via DHL is not available to PO boxes and/ or parcelboxes etc.