Manfrotto 405 - Pro Digital Geared Head
Product #1181 | SKU MF405
(based on 1 rating)
Thanks for your rating!
---
---
---
Buy Together & Save!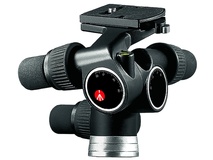 Manfrotto 405 - Pro Digital Geared Head
---
Overview
Designed especially for 35mm and medium format camera shooters who need both speed & precision, the Manfrotto 405 is a great three-way head with bubble levels easily seen in two axes no matter the orientation of the camera. Meaty rubberised knobs can either completely disengage the gear mechanism for a quick rough estimate of position or offer the finest exacting placement for even a macro shot. Cranks allow 360 degrees pans and +90 to -30 degrees of frontal or lateral tilt.
Supports all medium format systems
Load capacity 7.5kg
Height 16cm
Weight 2.4kg