---
Buy Together & Save!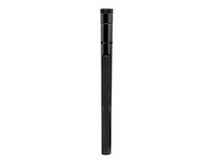 Sennheiser ME36 Gooseneck Microphone Capsule
---
Overview
The Sennheiser ME36 - Gooseneck Microphone Capsule is a permantly polarized condenser microphone head for use with the Sennheiser MZH goosenecks. The ME36 is a mini-shotgun capsule with a super-cardioid / lobar pick up pattern and wide frequency response. It is designed to maximize focus by minimizing residual off-axis noise, ambiance and feedback. The microphone's wide frequency response results in transparent, detailed audio reproduction at full range. This capsule excels in applications where proximity is an issue and the microphone is called on to pick up signal at long distances.
Features
A highly directional mini shotgun from the originators of shotgun technology
Unique for it's price point, the ME36 provides ultimate value and sound quality compared to its competitors
Uses proven capsule from ME 105 modular lav series for detailed directionality, high SPL and unprecedented low self-noise (23dB A-weighted)
Interference tube/capsule housing rotates for optimum alignment
Delivery Includes
ME 36 cardioid Capsule
Windscreen
Specifications
Transducer principle (Microphone): pre-polarised condenser microphone
Pick-up pattern: super cardioid / lobar
Acoustics: pressure gradient transducer / interference tube transducer
Frequency response (microphone): 40 Hz - 20 kHz
Impedance: 50 Ohm
Min. terminating impedance: 1 kOhm
Equivalent noise level: 23 dB(A)
Equivalent noise level weighted as per CCIR 468-3: 34 dB
Phantom powering : P12 - P48
Current consumption: 250 µA
Weight: approx. 8.5g
Dimensions: ø6.2 x L96 mm