Panasonic Leica DG Macro-Elmarit - 45mm Lens

Product #3141
SKU H-ES045E


(no ratings yet)

Thanks for your rating!
Usually ships in 2 - 3 working days
---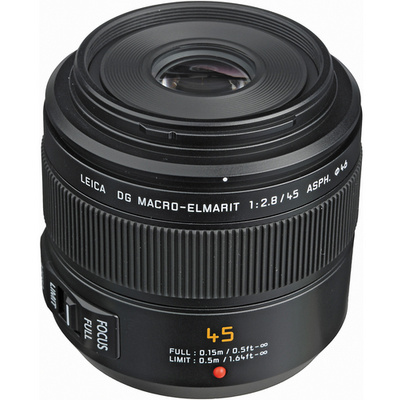 ---
Panasonic Leica DG Macro-Elmarit - 45mm Lens
Product #3141 | SKU H-ES045E
|

(no ratings yet)

Thanks for your rating!
Usually ships in 2 - 3 working days
---
FZ.8 O.I.S micro 4/3 mount
---
Email me when stock arrives
The LEICA DG MACRO-ELMARIT 45mm / F2.8 ASPH. / MEGA O.I.S. boasts a superb image quality with minimum distortion, chromatic aberrations as well as ghosts and flares that passes a stringent Leica standard to goes beyond their expectations. This lens system uses both an aspherical lens and an ED lens in its 14 lenses in 10 groups to realize outstanding compactness, taking advantage of the Micro Four Thirds standard to achieve dramatic downsizing while minimizing distortion and chromatic aberration.
Panasonic's MEGA O.I.S. (Optical Image Stabilizer) suppresses the blurring that is commonly caused by hand-shake, making it easy to shoot clear shots for sharply focused macro shot or in dimly lit places without using a tripod.
It incorporates an inner focus direct-drive linear motor with 3 groups of floating structure for focusing, which enables excellent resolution and contrast without changing its overall length from full life-size magnification to infinity. The inclusion of stepping motor makes the focusing action smooth and quiet* for use in both photo and movie recording (* Some noise may be recorded in motion picture mode, subject to recording environment). The closest focusing distance can be instantly changed to 15 cm or 50 cm (0.5 ft to 1.64 ft) with the switch on the lens barrel according to the shooting opportunity.
When mounted on the LUMIX G Micro System Camera, this lens allows use of the advanced contrast AF system, which includes a Face Recognition function, for more convenient, more enjoyable shooting.
Seven blades give the aperture a rounded shape that produces an attractively smooth effect in out-of-focus areas when shooting at larger aperture settings. The LEICA DG MACRO-ELMARIT 45mm / F2.8 ASPH. / MEGA O.I.S. lens also features a highly reliable metal mount, and uses multi-coated lens elements that minimize ghosts and flare to further enhance its optical performance.
Features:
An Aspherical Lens and An ED Lens for a Superb Optical Performance
MEGA O.I.S. - Panasonic's Advanced Hand-shake Correction Technology
An Inner Focus Direct-drive Linear Motor for Focusing with Excellent Resolution and Contrast
Contrast AF System Support
Circular Aperture Diaphragm and Durable Metal Mounting
Multi-coated Lens Elements That Reduce Ghosts and Flare
Specifiations:
Aperture Range:
F2.8
Aperture Type:
7 diaphragm blades / Circular aperture diaphragm
Closest Focusing Distance :
FULL: 0.15m / 0.5ft,
LIMIT: 0.5m / 1.64ft
Focal Length:
f=45mm (35mm camera equivalent 90mm)
Lens Construction:
14 elements in 10 groups (1 Aspherical lens, 1 ED lens)
Maximum magnification:
Approx. 1.0x / 2.0x (35mm camera equivalent)
Minimum Aperture:
F22
Mount:
Micro Four Thirds mount
Optical Image Stabilizer:
YES
Diagonal Angle of View:
27 degrees
Filter Size:
46mm / 1.81 in
Max.Diameter:
63mm / 2.48 in
Overall Length:
Approx. 62.5mm / 2.46 in (from the tip of the lens to the base side of the lens mount)
Standard Accessories:
Lens Cap, Lens Hood, Lens Rear Cap, Lens Storage Bag
Weight [g]:
225.0
Weight [oz]:
7.94
Works with: :
DMC-GF2CR, DMC-GF2KR, DMC-G2R, DMC-GH2S-Body-Only, DMC-GH1K-Body-Only, DMC-GH2K-Body-Only, DMC-G2A, DMC-G2K, DMC-GF2KK, DMC-GF2CW, DMC-GF2CK, DMC-GF2KW, DMC-GF2CS, DMC-GF2KS
Reviews
(no ratings yet)
Own or use this product?
Give it a quick rating:
Thanks for your rating!
Share your thoughts with other customers:
Write a review
Product:

Panasonic Leica DG Macro-Elmarit - 45mm Lens

Manufacturer:

Model:

H-ES045E

SKU:

H-ES045E

RM Product #:

3141

Zooms/Primes:

Prime Lenses

Lens Type:

Standard