VSGO DDR24S Full-Frame Sensor Cleaning Swab Kit + Sensor Cleaner
Product #51837 | SKU DDR24S
(based on 4 ratings)
Thanks for your rating!
---
---
VSGO DDR24S Full-Frame Sensor Cleaning Swab Kit + Sensor Cleaner
Product #51837 | SKU DDR24S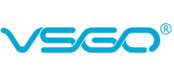 ---
---
Product Features
Vacuum packaged
Super fine Microfibre tip
Gel-like cleaning solution
No Damage to Lens coating
Customer Reviews
(based on 4 ratings)
Thanks for your rating!
Product Details
Product: #51837
SKU: DDR24S
---
Overview
The VSGO DDR-24S Full Frame Cleaning Swab Kit is the perfect kit for your Full Frame 24mm sensor cameras. The swabs are made with a microfibre tip designed to be as gentle as possible on your sensor, and the included non-corrosive sensor cleaning solution will remove oils and grime with no damage to your sensor's protective coating.
Key Features
All products manufactured in a CLEANROOM* environment
Vacuum packaged
Super fine Microfibre tip, accurate size for 24mm sensors
Gel-like cleaning solution, water resistant at 18MO
No Damage to Lens coating
Also great for high quality lenses, filters, phone or computer screens