Sachtler System 20 S1 HD CF

Product #652
SKU 2072S1


(no ratings yet)

Thanks for your rating!
Usually ships in 3 - 4 weeks
---

---
Sachtler System 20 S1 HD CF
Product #652 | SKU 2072S1
|

(no ratings yet)

Thanks for your rating!
Usually ships in 3 - 4 weeks
---
Product Features
Video 20 S1 Fluid Head
ENG 2 CF HD Tripod
Ground-level Spreader
Padded Bag
16-step Counterbalance
---
Email me when stock arrives
The Sachtler System 20 S1 HD CF brings together the update of a classic fluid head with a quick-action, double extension tripod to provide a professional level of support for today's news-gathering videographer. Whether you're shooting with a large ENG camcorder or the latest video DSLR, this system--which also includes ground spreaders and a padded carry bag--will give you the quick, easy balance and flexible control you need.
Key Features
Video 20 S1 Fluid Head
This relaunch of the legendary Video 20 head incorporates a wider payload range and a faster, simpler balancing system. The increased range means that even lightweight cameras--such as video DSLRs--can be used effectively, aided by a 16-step counterbalance system that allows for fine degrees of tuning. Like its predecessor, the Video 20 S1 can also easily handle heavier ENG and EFP camcorders, with a Boost Button included for sudden shifts in payload range. Other features include 7 levels of drag, a self-illuminating bubble level, a Touch and Go plate for speedy mounting and removal, and Sachtler's already proven Speedbalance technology.
ENG 2 CF HD Tripod
The ENG 2 CF is extremely lightweight, solid and stable. Weighing in at just 4kg, its completely dual tube design ensures it can safely carry payloads of up to 95kg even at its maximum height. Double extension tripods are ideal for a much wider variety of applications, due to their expanded height range--i.e., lower bottom and higher top positions--which makes transport length even shorter. A folding handle lets you easily carry the tripod in a horizontal position, while Sachtler's quick clamping system means you can securely--and visibly--lock the tripod.
Ground-level Spreader, Carry Bag
The included ground-level spreader ensures absolute stability on flat surfaces, while the ENG/EFP padded bag comfortably and quickly contains the whole kit for efficient transport.
---
General
Load Capacity
2-25kg
Maximum Height
70.1" (178cm)
Minimum Height
28.3" (72cm)
Folded Length
37" (94cm)
Levelling Bubble/Illuminated
Yes/Yes
Weight
10.4kg
Head
Counter Balance System
16 Steps + Boost Button
Quick Release/Wedge Plate
Touch & Go Plate 16
Balance Plate
4.7" (120mm)
Tilt Drag
7 Steps
Tilt Range
+90° to -70°
Tilt Lock
Independent
Spring Loaded Counter Balance
7 Steps
Pan Range
360°
Pan Lock
Independent
Legs
Material
Carbon Fibre
Head Attachment Fitting
100mm
Leg Stages/Sections
2/3
Leg Lock Type
Quick Clamp Torque Lock
Independent Leg Spread
Yes
Spiked/Retractable Feet
Spiked
Centre Brace
Ground-level
Buy Together & Save!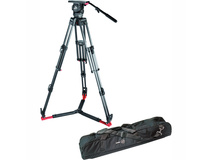 Sachtler System 20 S1 HD CF
Usually ships in 3 - 4 weeks
In The Box
Sachtler System 20 S1 HD CF
Video 20 S1 Fluid Head
Telescoping Pan Bar
ENG 2 CF HD Tripod
Ground-level Spreader
Padded Bag
Limited 1-Year Warranty
Reviews
(no ratings yet)
Product:

Sachtler System 20 S1 HD CF

Manufacturer:

Model:

2072S1

SKU:

2072S1

RM Product #:

652

Closed Length:

94 cm

Minimum Height:

72.0 cm

Load Capacity:

25.0 kg

Weight:

10.40 kg

Maximum Height:

178.0 cm

Head Type:

Fluid

Material:

Carbon Fibre

Stage & Sections:

2/3