G-Technology G-RAID 20TB 2-Bay Thunderbolt 2 RAID Array (2 x 10TB)
Product #47522 | SKU 0G05014
Usually ships in 4 - 6 Weeks
(no ratings yet)
Thanks for your rating!
---
---
G-Technology G-RAID 20TB 2-Bay Thunderbolt 2 RAID Array (2 x 10TB)
Product #47522 | SKU 0G05014
Usually ships in 4 - 6 Weeks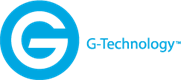 ---
---
Product Features
2 x 10TB 3.5" HDDs
Two 3.5" Drive Bays
2 x Thunderbolt 2, 1 x USB 3.0 Ports
RAID 0, 1, and JBOD
Preconfigured in RAID 0
Customer Reviews
(no ratings yet)
Thanks for your rating!
Email me when stock arrives
Product Details
Product: #47522
SKU: 0G05014
---
Overview
Add the speed and storage capabilities of RAID, Thunderbolt 2, and USB 3.0 to your Mac and Windows systems using the G-RAID 20TB 2-Bay Thunderbolt 2 RAID Array from G-Technology . This array features two SATA III 6 Gb/s drive bays, each of which holds one removable 10TB enterprise-class hard drive, for a total capacity of 20TB. The drives have a rotational speed of 7200 rpm and are configured in a RAID 0 array. Moreover, this G-RAID is outfitted with one USB 3.0 port along with two Thunderbolt 2 ports, which deliver daisy-chaining capabilities.
This G-RAID features an internal RAID controller which supports hardware RAID 0 (optimised for performance), RAID 1 (optimised for data protection), or JBOD. This will allow users to access, browse, edit, and backup their digital library. It is well suited for demanding creative projects, such as those involving HD, 2K, and compressed 4K workflows. In addition, it may also be used for storage-intensive applications, such as audio editing, digital photography, music libraries, data backup, and more. This array uses a smart cooling fan to help ensure quiet operation, a long life, and data reliability, as well as an all-aluminium enclosure to help increase its durability.
While this G-RAID is compatible with both Mac and Windows, it comes pre-formatted for Mac. When reformatted for Windows, it is compatible with Windows 10, 8.1, and 7. Included with this storage array are one Thunderbolt cable, a USB 3.0 cable, a power cable, and an AC power adapter.
Key Features
Two removable enterprise-class hard drives
2 x Thunderbolt 2 ports (compatible with Thunderbolt) 1 x USB 3.0 port (compatible with USB 2.0)
User configurable hardware RAID can be set as RAID 0 (performance) or RAID 1 (protected), and JBOD
Data transfer speeds up to 440 MB/s are well-suited for photo and video editing
A smart cooling fan helps to ensure quiet operation, a long life, and data reliability
The housing is built with an all-aluminium enclosure
Formatted for Mac, but this storage array may be reformatted for Windows
Specifications
Interfaces
2 x Thunderbolt
1 x USB 3.0
RAID
Pre-configured as RAID 0, also configurable to RAID 1
Drive Bays
2 x SATA III 6 Gb/s
Capacity
20 TB (2 x 10 TB)
Rotational Speed
7200 rpm
System Requirements
Mac OS 10.9+
Windows 10, 8.1, and 7 (via reformat)