TC Electronic Flashback 2 Delay Pedal for Electric Guitar
Product #47620 | SKU 960823001
(no ratings yet)
Thanks for your rating!
---
---
TC Electronic Flashback 2 Delay Pedal for Electric Guitar
Product #47620 | SKU 960823001

---
---
Product Features
Stereo I/O
Level, Feedback Knobs
Delay, Delay Type & Subdivision Controls
Multiple Delay Types Available
Built-In Phrase Looper (40 Seconds Mono)
Customer Reviews
(no ratings yet)
Thanks for your rating!
Product Details
Product: #47620
SKU: 960823001
---
Buy Together & Save!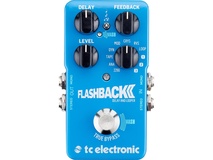 TC Electronic Flashback 2 Delay Pedal for Electric Guitar
---
Overview
The Flashback 2 Delay from TC Electronic is a pedal intended for use with electric guitar. It provides multiple delay types, all accessible from one enclosure. With this pedal, you can generate pristine digital delays, delays modelled on analogue circuitry, emulated tape echoes, and many effects you'Voe never quite heard before. In fact, compatibility with the TonePrint editor allows you to create your own unique delays and store them in the pedal.
The Flashback 2 offers stereo I/O for multiple amp setups, or for use with instruments boasting stereo outputs. There are controls for delay level, delay time, subdivision, and feedback. A built-in phrase looper gives you either 40 seconds in mono or 20 seconds in stereo for recording material on the fly. A buffered-bypass option and kill-dry mode are accessible through internal DIP switches.
In addition to its true-bypass and tap-tempo functions, the footswitch sports an expression technology TC Electronic called MASH, which obviates the need for an external pedal, letting you manipulate various assignable parameters by simply applying more pressure to the footswitch. This pedal can run using a 9V battery or by means of a power adapter, available separately.
Key Features
More about MASH
MASH reacts to the amount of pressure you put on the switch. The harder you press, the more intense the effect. The MASH control is assignable to three parameters at once via the TonePrint editor. For each delay preset, MASH will control a different parameter and let you exert expression control without necessitating an extra pedal, or requiring you to bend over and throw your back out in the pursuit of twisting knobs. For example, you can assign MASH to raise the delay time as you press down, subtly increase the delay feedback into full-blown self-oscillation, or to add/deepen chorus modulation for out-of-tune flutters.
Controls and Indicators at a Glance
DELAY Knob: Use this knob to adjust the time of the delay. Most delay types have a range of 20 to 7000 ms.
SUBDIVISION Switch: This switch determines the note intervals that the delay repetitions are based on. The options are quarter note, dotted eighth, and quarter note plus dotted eighth.
FEEDBACK Knob: Use the Feedback knob to determine the number of delay repeats.
MASH LED: This will light up when the MASH function is engaged by pressing down firmly on the footswitch. The LED gets brighter as the footswitch receives more pressure, indicating a more intense triggering of the parameter that is assigned to this function.
LEVEL Knob: This knob adjusts the volume level of the delay repeats. The direct, unprocessed signal is always passed through at the original (unity) level. The Level knob only controls how prominently the delay repeats are mixed with the dry signal.
DELAY TYPE Selector: Select the type of delay or TonePrint with this knob.
Delay Types
2290: This is based on TC Electronic's prised 2290 Dynamic Digital Delay.
ANALOGUE: This type models a vintage analogue transistor bucket-brigade delay. With every repeat, you get more of that old-school "fade to gray" vibe.
TAPE: This algorithm meticulously replicates aspects of authentic tape delay, including the pitch shifting that occurs when the delay time is altered.
DYNAMIC: This is a replica of the Dynamic Delay initially introduced in the TC 2290. The delay's output level is actively altered by the dynamics of the input level. While playing, the delay level is attenuated, and in between phrases, the delay level is increased. This allows you to play with a relatively large amount of delay without muddying fast riffs.
MODULATED Take the 2290's pristine sound, send it through three emulated chorus pedals. If you're into the sound of The Edge, this might work for you.
CRYSTALS: The Crystals effect pitch shifts the echoes up an octave through each delay loop. This setting pairs nicely with MASH control.
REVERSE: This is an emulation of a classic effect made famous by guitar legends such as Jimi Hendrix.
LOOPER: Set the Delay Type selector to LOOP to use the built-in audio looper. You get 40 seconds in mono, or 20 seconds in mono, as well as the ability to layer overdubs.
TONEPRINT: Select one of the 3 TonePrint settings to access a default setting or a custom TonePrint preset.
Specifications
I/O
2 x 1/4" Instrument inputs, phone type
1 x 1/4" Instrument outputs, phone type
Bypass
True bypass, buffered bypass optional
Impedance
Input: 1 MOhm
Output: 100 Ohms
Power Input
Standard 9 VDC, centre negative
Current Draw
>300 mA
Battery
9 V
USB Port
Mini-USB connector for firmware updates
Dimensions (H x W x D)
93 x 48 x 48 mm