Zacuto Ratcheting Lever
Product #11020
|
SKU Z-RL
|
Zacuto
Shipping & Availability
Click & Collect Availability
Sydney
In stock. Pickup tomorrow
---
Buy Together & Save!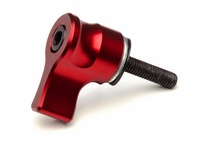 Zacuto Ratcheting Lever
---
Related Products
---
Overview
Perfect for Tightening or Loosening a Lever in a Tight Spot
Description
The Zacuto ratcheting levers are fully adjustable in the field. It's great when tightening or loosening a lever in a tight spot. One benefit our levers have over other ratcheting levers on the market is that the screw we use bottoms out in the piece and the lever rotates around that. This means you're not going to accidentally unscrew your lever out of your rig and lose it. When the lever is loosened the screw that it rotates on stays snug in the piece. This upgrade kit gives you one ratcheting lever. These can be used to replace the "normal" Zacuto small lever on any of your existing Zacuto pieces. We also sell a Ratcheting Lever Kit, which includes 4 levers.
Reviews
(no ratings yet)
Own or use this product?
Give it a quick rating:
Thanks for your rating!
Share your thoughts with other customers:
Write a review
Details
Product:

Zacuto Ratcheting Lever

Manufacturer:

Zacuto

Model:

Z-RL

SKU:

Z-RL

RM Product #:

11020

Warranty:

Lifetime warranty on non-electronic products, 1 year warranty on electronic products