G-Technology G-SPEED Shuttle XL 48TB 8-Bay Thunderbolt 3 RAID Array with Two ev Bay Adapters
Product #47543 | SKU 0G05949
Special Order
Usually Ships in 2 - 4 Weeks
(no ratings yet)
Thanks for your rating!
---
---
G-Technology G-SPEED Shuttle XL 48TB 8-Bay Thunderbolt 3 RAID Array with Two ev Bay Adapters
Product #47543 | SKU 0G05949
Special Order
Usually Ships in 2 - 4 Weeks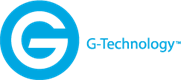 ---
---
Product Features
G-Technology 500GB G-DRIVE slim USB 3.1 Type-C External SSD
6 x 8TB 7200 rpm 3.5" Hard Drives
Six 3.5" SATA Drive Bays
Two Evolution (ev) Series Drive Bays
2 x Thunderbolt 3 Ports
Customer Reviews
(no ratings yet)
Thanks for your rating!
Email me when stock arrives
Product Details
Product: #47543
SKU: 0G05949
---
Overview
NOTE: This drive comes pre-formatted as RAID 5. This means the capacity of one drive is used to provide protection from a drive failure. Actual usable capacity will show as 40TB.

Built to support for video workflows on location and in the studio that require large capacities, high-powered performance, and multiple RAID configurations for multi-stream 4K, 8K, and VR workflows, the G-SPEED Shuttle XL 48TB 8-Bay Thunderbolt 3 RAID Array from G-Technology provides up to 48TB of enterprise-class storage that is made up of six 8TB 7200 rpm 3.5" hard drives and is equipped with two 40 Gb/s Thunderbolt 3 ports. While one of the Thunderbolt 3 ports is used to interface with your host system at speeds of up to 1500 MB/s, the other can be used to daisy chain up to five additional devices to your G-SPEED.
In addition to the six 3.5" drive bays, this array also has two Evolution (ev) Series drive bays that support ev Series drive modules. If there is data that needs to be copied off the array's 3.5" drives, it can be copied to the ev Series modules, which may then be removed from the array and transported or mailed with more ease than a 3.5" drive. ev Series modules can also be used to adapt memory cards, such as the RED MINI-MAG, so that content may be transferred to and from the array.
The six drive bays of the G-SPEED come pre-configured as hardware-controlled RAID 5, which provides a good balance of performance and data redundancy. Also supported is RAID 0, 1, 6, and 10. Please bear in mind that the ev Series drive bays may only be configured as RAID 0, 1, and JBOD.
The G-SPEED Shuttle XL 48TB 8-Bay Thunderbolt 3 RAID Array comes formatted for macOS 10.12+. After a simple reformat, it may also be used with Windows 10 and 7. Also included is a 40 Gb/s Thunderbolt 3 cable, a power cord, and six removable disk modules, and two ev Series bay adapters. Protection is provided by a limited 5-year warranty.
Key Features
Large 48TB capacity and portable design
Supports multi-stream 4K, 8K, and VR workflows
Hardware RAID: supports RAID 0, 1, 5, 6, and 10
Pre-configured in RAID 5
Up to 1500 MB/s sustained transfer rates
Dual 40 Gb/s Thunderbolt 3 ports (compatible with 20 Gb/s Thunderbolt 2)
Enterprise-class 7200 rpm hard drives
Daisy-chaining for up to 5 additional devices
Specifications
Capacity
48 TB (6 x 8 TB 7200 rpm enterprise-class 3.5" hard drives)
Interface
2 x Thunderbolt 3 ports
Data Transfer Rate
Up to 1500 MB/s
RAID Support
Hardware RAID 0, 1, 5, 6, and 10
Pre-configured as RAID 5
Operating Systems
macOS 10.12+
Windows 10 and 7 (via reformat)
Dimensions
24.51 x 17.50 x 38.51 cm
Weight
10.82 kg