Sennheiser MZW66 Foam Windscreen
Product #10468 | SKU 003704
(no ratings yet)
Thanks for your rating!
---
---
---
Buy Together & Save!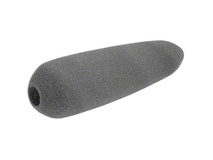 Sennheiser MZW66 Foam Windscreen
Related Products
---
Overview
The Sennheiser MZW66 - Foam Windscreen is open-cell foam windshield for the ME66 microphone head. This windshield provides effective protection against wind and pop noise for better sound quality.
Specifications
Length: 190 mm.
Diameter: 58 mm.