Domke F-8 Small Shoulder Bag- Ruggedwear (Brown)

Product #11973
SKU 700-80A


(no ratings yet)

Thanks for your rating!
Usually ships in 2 - 3 weeks
---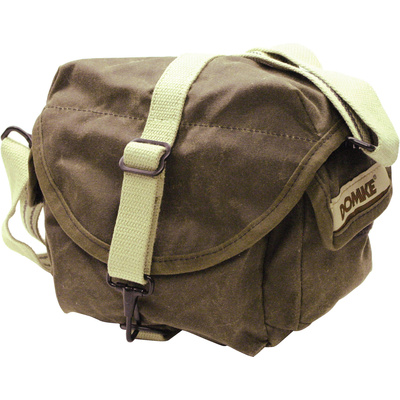 ---
Domke F-8 Small Shoulder Bag- Ruggedwear (Brown)
Product #11973 | SKU 700-80A
|

(no ratings yet)

Thanks for your rating!
Usually ships in 2 - 3 weeks
---
carry 1-2 cameras, 2-4 lenses, your flash & accessories
---
Email me when stock arrives
The brown F-8 Small Shoulder Bag- Ruggedwearfrom Domkeis a quality shooter's bag designed with a distressed patina finish that improves with age. It's designed to carry a host of photo gear including 1-2 cameras, 2-4 lenses, flash and accessories.
The F-8 is made of water-resistant canvas material coated with waxes and oils - Ruggedwear. The fabric produces a unique distressed and weathered look. The open cell foam construction on the bottom adds cushioning for additional protection when the bag touches the ground. The fabric has been manufactured with Domke's special non-solvent waxes and oils that provide long-term protection from harsh weather. The breathable fabric ages well but can be restored to its original look with the use of the included refinishing wax.
Inside the bag is a removable partition for organizational purposes. Its three interior compartments and five pockets deliver excellent storage and additional organizational capabilities for rapid access to the gear you need at a specific time. The renowned Domke Gripper Strap is tough and runs completely around the bag. There's also a quick grab removable hand carry strap that can be employed irrespective of whether the bag is open or not. The front flap protects the interior from water and is secured with Domke's traditional metal clip.
Dual side pockets are secured with touch fasteners and contain enough space for accessories like a flash or light meter. There's an additional zippered pouch stashed within the front weather flap. Domke's hardware is made for tough day after day use in a bag that is extremely lightweight at a mere 1.7 lb (0.7 kg). If the bag gets dirty, it can readily be cleaned with a hose, damp cloth or soft scrub brush. Saddle or flake soap also works well. Domke does not recommend machine washing the bag.
The name Domke is synonymous with bag quality. Their bags have graced the shoulders of photojournalists from all four corners of the planet for decades. Backed by a two-year warranty, the F-8 delivers quality and functionality that underscore the Domke reputation.
Key Features
Eight compartments and pockets. There's even Domke's trademark "upside-down" zipper pouch inside the weather flap
Durable water-resistant, breathable cotton canvas
Removable padded partition wall included
Adjustable non-slip Gripper Strap runs completely around the bag
Street-tough hardware
Open cell foam liner in bottom adds cushioned support
Removable hand carrying strap can be used whether bag is open or closed
Lightweight design
Accessible and ample
Carry-On Form Factor
FAA and airline carry-on specifications are subject to change without notice, please check with your airline before designating this case as a carry-on item. Most airlines require carry-on items to have an external linear measurement that is equal to or less than 45.0" (114.3 cm). The external dimensions of this case add up to 21.25 "(54.0 cm)
Specifications
Material Water-resistant cotton canvas (Ruggedwear)
Type of Closure Front clip
Exterior Dimensions 9.0 x 5.25 x 7.0" (22.9 x 13.3 x 17.8 cm)
Interior Dimensions 6.5 x 3.5 x 6.5" (16.5 x 8.9 x 16.5 cm)
Tripod Holder Not Applicable
Carrying/Transport Options Gripper Strap Hand carry strap
Weight 1 lb 7 oz (0.7 kg)
Reviews
(no ratings yet)
Own or use this product?
Give it a quick rating:
Thanks for your rating!
Share your thoughts with other customers:
Write a review
Product:

Domke F-8 Small Shoulder Bag- Ruggedwear (Brown)

Manufacturer:

Model:

700-80A

SKU:

700-80A

RM Product #:

11973