Shure is considered by many to be one of the best audio brands in the world. Whether you're a life-long Shure enthusiast or purchasing Shure products for the first time, we're confident you'll experience the same level of Total Quality that audio professionals have appreciated for over 90 years.
Founded by Sidney N. Shure in Chicago, Illinois in 1925 as "The Shure Radio Company", a supplier of radio parts kits. Shure became a consumer and professional audio-electronics manufacturer of microphones, wireless microphone systems, phonograph cartridges, discussion systems, mixers, and digital signal processing.
The company also manufactures listening products, including headphones, high-end earphones, and personal monitor systems.
Microphones
With a long and storied history, Shure microphones have withstood the test of time. Shure mics are the cornerstone for stage and studio sound, from the world-renowned SM58 and SM57 to the superb KSM studio microphones.
Wherever sound is amplified or recorded, Shure is there.
Rock and roll. The President's podium. Hip-hop and gospel. Network TV. Country and Western. Police radio. Jazz and Blues. The preacher's podium. Show tunes. Garage bands. You name it - Shure have miked it!
Wireless Systems
It's been over a decade since Shure cut the cable. Now, there's barely any stage, anywhere, that hasn't hosted a Shure wireless system. Whether it's a high school gym, a church, a local bar, a concert hall, or a stadium, you can count on the fact that Shure has been there.
Presenters and performers love the freedom and flexibility that wireless can provide. Singing or speaking, vocal or instrumental, Shure brings the sound and reliability of their microphones to the world of wireless.
How reliable? When failure is not an option, Shure UHF systems are there, whether it be the Grammy® Awards, the Oscars®, top touring artists, or network broadcasters. And it doesn't stop there. Shure wireless systems come in many varieties, accessible to new performers and seasoned veterans alike.
In-Ear Personal Monitoring
Hearing conservation. Personal control. Portability. Superior sound quality. Mobility. The Shure PSM family of personal monitors are the smart alternative to floor wedges, giving you the straight line to achieving your best performance, time after time. Countless numbers of today's musicians are fully realizing how consistent and accurate their performances can be when they can actually hear themselves onstage. Hardwired or wireless, there is nothing like the protection and control that can be yours with the PSM Personal Monitor Systems - the new onstage standard.
Phonograph Cartridges
No turntable - or pair of turntables - is complete without Shure phonograph cartridges. Classic models such as the M44-7 are the choice of world champion turntablists and aspiring scratch DJs. All Shure cartridges employ our patented low-mass, high-output moving magnet structure. With their high tracking ability, Shure cartridges are very gentle on irreplaceable vinyl records, using polished, natural diamond-tipped styli for precise, musical signal tracing.
Earphones & Headphones
From award-winning Sound Isolating Earphones, mobile phone stereo headsets to Professional Studio and DJ headphones. All built on professional audio roots, Shure's consumer audio products are designed to take listening experiences of MP3 players, mobiles phones and sound systems to a higher level.
read more
hide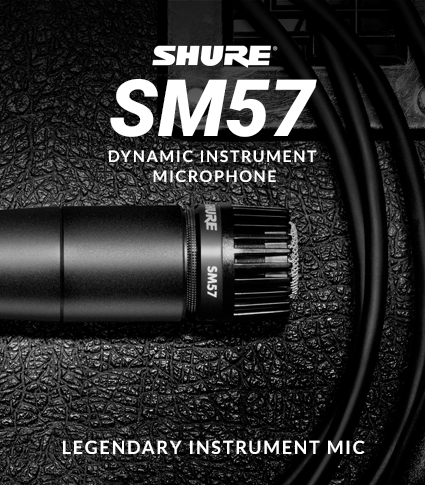 More From Shure
Shure Featured Products
Deals & Promotions